Wednesday, October 25, 2006 Winter Squash or Pumpkin



I haven't seen large to hugeous pumpkins in any local market I have been to in Manila. I wonder why such a variety of squash is no where to be found. It always delights me to see that plump, orange-y, ribbed, smooth fruit. It looks nice in the photo isn't it? We got used to those smaller, green to orange pumpkins that are in abundance locally.








Jack-o-Lantern pumpkin variety




Hmm, you're probably thinking why I associated it with squash and said it's a fruit, huh? Well, because it is indeed. As I have researched on it. Pumpkin is included in one of the 4 species of squash under the family Cucurbitaceae. It is the same family wherein cucumber, zucchini, bottle gourd, melon and watermelon belongs. But categorically, there are only 1 genus and 4 species that are called squash. Those mentioned fruits are of different species. Squash is considered one of the most diversified vegetable families. Squash is a plant or moreover an herbaceous vine which produces edible flower and fruit-which is the pumpkin! If you wish to see more infos about it check it out here.

Pumpkin has numerous varieties that it may cause some perplexity in identification. It is harvests all year round in 6 of the 7 continents of the world. But it is mostly visible during the months of October and November. Why you may ask….Because it has become part of celebrating Halloween as decors, then comes Thanksgiving Day(in the US) and most often it is included in meal preparation.

Most of the large variety of pumpkin is said to be stringy and tough, unlike the smaller pumpkin (readily available locally) which is kinda sweet. It is good for pie and soup. It is very nutritious- a good source of fiber, potassium, protein and beta-carotene: which is good for eye sight and anti-cancer. Its seed also won't go to waste, as it is said to have nutritive value and can be pressed to yield oil. Here in Manila, I think only few use pumpkins in their cooking. Other than Pinakbet, Ginataang Sitaw at Kalabasa, Mashed Kalabasa; it is not common for a household to do experimental cooking and use Kalabasa, is it?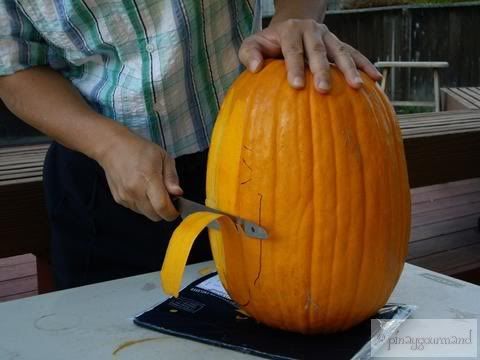 pumpkin about to be carved




The pumpkin above belongs to the Jack-o-Lantern variety and is scientifically called Cucurbita pepo. A friend living in the US bought it for carving and sculpting. I am envious! I wish in a few years time, we can finally purchase such pumpkin locally and have some fun making Halloween decors for trick-or-treat parties! It will surely delight the kids and kids-at-heart! Oh, oh and I'm gonna posts the finished pumpkin carving and some pumpkin recipes kids will love soon!!!



Technorati tags:squash,pumpkin
Posted by pinaygourmand :: 3:07:00 PM :: 0 comments

---------------oOo---------------