Tuesday, October 31, 2006 Spooktacular Pumpkin-stein and Cutie Pie Pepito



Halloween parties at school, office and at some villages were held over the weekend. Some are still probably setting up for a later party, today. As years go by, Halloween celebration here in Manila is taken to higher levels. Just over the weekend, a popular mall had a costume party/contest for kids and about a hundred or more kids joined. I have seen some kids dressed and made up really spooky. There was a whole family dressed up so good. The mom was made up as a mangkukulam, her kids of different lamang luma, her youngest though was a tiyanak. Other participants were cute as a fairy, superhero, reindeer, bee, princess and a lot more. Those kids were all geared with plastic pumpkin pails-a pre-requisite for all participants.





I guess that is how the mall had gained their sales from this holiday. Numerous pumpkin pails and costumes were sold for that event alone. I find pumpkins beautiful for its color, its flavor and fragrants when used in cooking. And this holiday, it's the star! Who to thank for? The Celts who started to make carvings but they started out using turnips before this flashy orange pumpkins came into the picture.

In North America, during Halloween most homes display jack-o-lantern at their doorsteps, window pane or at the buffet/dining table to amuse trick-or-treaters. The spookier and more ghoulish the pumpkin carvings are the better. Here in the Philippines, it is still unusual to find some real pumpkin carvings because of the scarce resources of

real large pumpkins

. Though recently, I read from

Marketman's blog

that there were some real pumpkins available at the SM Makati. By the time most people got this good news, those nice pumpkins will most likely be out of sight. I still think most of those who wish to do pumpkin arts has to settle for a sugar pumpkin, abundant locally. But finding a big nicely shaped

kalabasa

can be frustrating, hopping from one market to another hoping to spot a good

kalabasa

to use.

Last week before I even started this blog, I had to check my photo files to find food photos that I will post eventually. Looking forward to make my Halloween posts, I searched for a pumpkin carving photo, the pumpkin was carved by my friend

Suede

3 years ago. That was his first pumpkin carving experience and it turned out really good. I couldn't find my photos though and had to ask him if he still have a copy of the carving. Good gracious, he still have it and he even plans to make another carving this year! Too glad and excited of another great possible outcome of his pumpkin art, I told him I will feature his artworks.

This year's pumpkin art is a carved Frankenstein's face. As he does the artwork, it seems that it was so easy for him. He didn't use any pre-drawn design. He just gathered knives, carving tools and the pumpkin in his table and he started out to peel half of the pumpkin and started working on it. I envy his imaginative mind and talented hands! He is a good craftsman indeed! (*Applause*)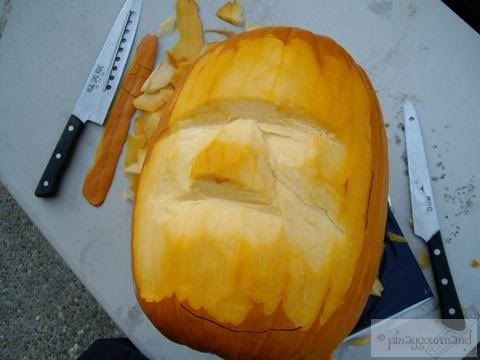 the initial facial outline
visible eyebrow, nose and mouth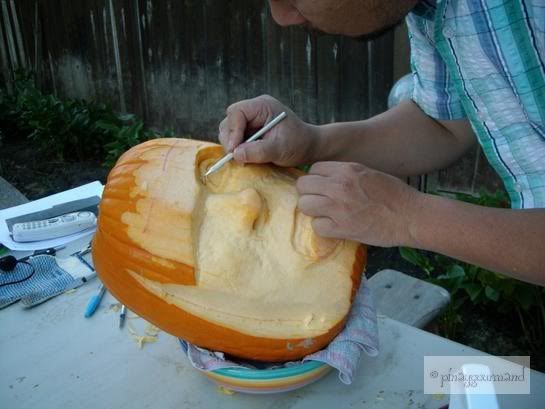 working on the eyes


At this stage, Suede said he committed some mistakes. I kept on wondering what were those mistakes were. As I look at it, each stage only shows more details! Is he being modest? Geez, I envy his talent!!
pronounced cheekbones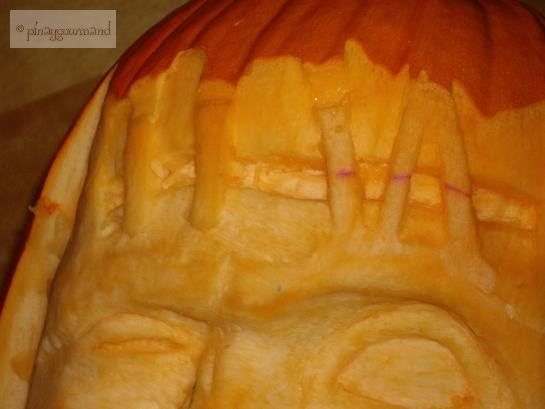 details on a stitched forehead
Pumpkin-stein says, "BEH!"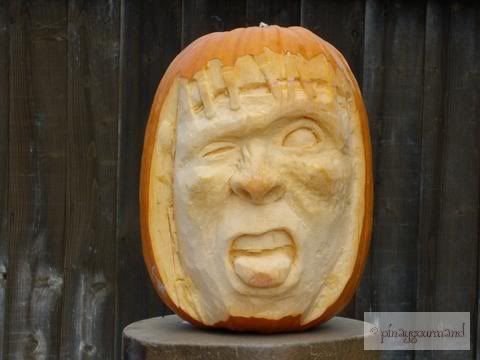 facial folds, jawline, eyes and nostrils details
eye slit

My jaws dropped as I looked and marveled at how intricate details are immensely visible at this piece of fruit! According to Suede, carving or sculpting a pumpkin is difficult than making a sculpture out of a clay. "You can never add a piece of pumpkin flesh if you made a mistake, unlike clay. Carving a pumpkin is like making a sculpture using a marble. Now I know how Michelangelo had a hard time making his sculptures."
I didn't know that pumpkin carving can be that complicated, but I guess with a not so ordinary jack-o-lantern, indeed it can be tedious. I am so amazed at his talent, that I wish he can make my replica sculpture.(*wishful thinking*)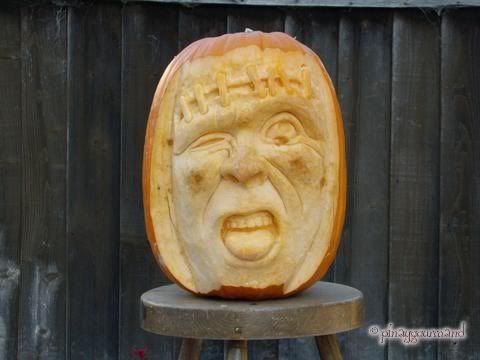 more intricate details plus mold build up


By day three, the pumpkin started to have molds, that is because he didn't use any preserving agent. But I think,it only made the pumpkin spookier. If he wished to store the pumpkin for several days, he could have used petroleum jelly but that will probably make carving more difficult.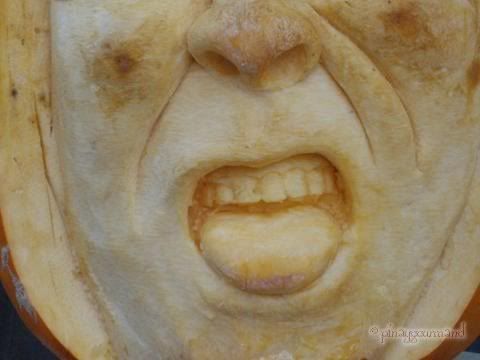 teeth-y detail goodness
forehead's stiches and left eye intricacity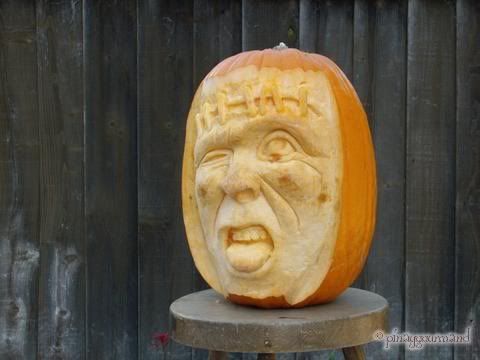 Spooktacular Pumpkin-stein all set to spook
And how can I ever forget my dear Cutie- surely to beat any matinee idol. Just like how Gargantuaneater described... "he's sexy, hot and burning!"

(*sound of the trumpets, and drums rolling*)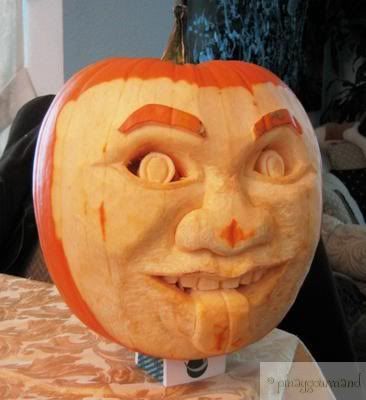 sexy plump, hot and burning orange-y Cutie Pie Pepito

That was the first carved pumpkin Suede made.
I like how he makes carved pumpkins , extraordinary!
Happy Halloween!!


Technorati Tags:Halloween,Philippines,pumpkin,jack o'lantern,pumpkin carving
Posted by pinaygourmand :: 1:41:00 AM :: 10 comments

---------------oOo---------------