Friday, December 08, 2006 Donate To The Victims of Super Typhoon Reming/Durian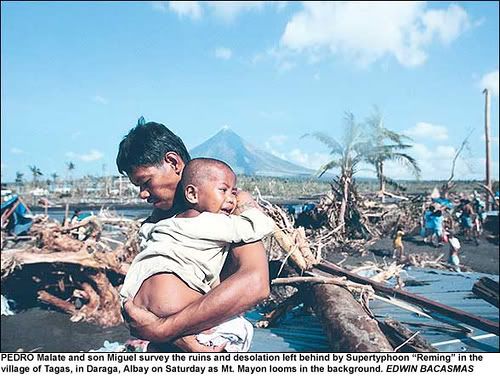 photo borrowed from PDI's December 3, 2006 front page, photo originally by Edwin Bacasmas

It's been days since super typhoon "
Reming
" (international codename:
Durian
) had hit and left the provinces in Bicol region so devastated.
Philippine Daily Inquirer's
front page last Sunday, December 3, 2006 had really moved me into tears. Photos at
Geoff Mackley's
(a film maker)
website
also have an overview of the devastation the typhoon had caused.
About 1,000 were feared dead, at least ten thousands are homeless and in hunger and approximately more than 1,000,000 people affected in 13 provinces
. I have heard from friends who already visited the different affected towns and all they can say is the media hasn't given much justice to which we should really see and know how grievous the total damage/ impact the storm had. Photos and articles isn't enough to move any ones heart but wait till you get the chance to be with those people. I have never yet talked to anyone who had been to Bicol after the mudslides and floods that didn't shed a tear. The
Philippine Daily Inquirer
photojournalist
Edwin Bacasmas
had talked about his experience in one
article
, upon reading it I'm quite thankful that though with such calamity and misfortune that the victims had undergo, they still do not lose hope.
In line with this striking event, I ask and encourage all of you to take part, pray, donate and contribute in any possible way you can to help those victims of typhoon Reming. Christmas time is fast approaching, one way or another you might have already done with your shopping or menu planning, how about some thoughtful consideration for the less fortunate? Most of you might have at least 4 different dishes on your dinner table by Christmas, how about sacrificing one for them? Can you possibly spend Christmas time so grandiose while our fellowmen in Bicol is in sorrow? Where's the essence of Christmas among us? We shouldn't let them lose hope, show some love and care.

Here's a list of where you could possibly send your donations to the victims of the typhoon.
GMA Network -- +632 9287021
QTV-11 -- +632 929-8969, 929-9934, 927-0627, 922-7220, 926-9639
Philippine National Red Cross( PNRC Fund Generation Department ) -- +632 527-0000 local 164
Department of Social Welfare and Development -- +632 931-8101
For Philippine Donors

We are now accepting cash and food donations at:

Sagip Kapamilya office
13 Examiner Street
South Triangle, Quezon City.
You can also send your donations to the following drop-off points:
1.
Power Plant Mall
, Rockwell, Makati City
2. McDonald's outlets
3. The Bodyshop outlets
4. Marithe Francois Girbaud outlets
Cash donations can also be made via bank deposits through
Equitable PCIBank
account no. 1491-04069-2.

Via Credit Card
For credit card donations, We accept VISA, Mastercard and AMEX.
Please fax with signature at +632-4114995 or e-mail to
sagip@abs-cbn.com
the following information:
Name of Cardholder
Card Number
Expiration date
CVC (last 3 digits at the back of the card below signature area)
Amount of donation
Credit card type (VISA, Mastercard, Amex)

Donation Hotline

For more details, please contact us at:
+632-4152272 local 3764 (Mabel)
+632-4114995
+639194470847

Priority Needs for victims of the typhoon:
1. Drinking water, Water purifying tablets
2. Medicines
3. Anti-tetanus vaccines (for Catanduanes)
4. Food (rice, noodles, mongos and other non-perishable items)
5. Blankets, Mattresses, Mosquito nets, Cooking and eating utensils, gas stoves, slippers, clothing
6. Candles, Flashlights, batteries
7. Tarpaulin tents, GI sheets, construction materials
8. Generator sets, water purification systems
9. Toiletries (tissue papers, toothpaste, tootbrush, sanitary napkins, bath soap)
10. Cleaning materials (laundry soap, detergents)

For North American Donors

Please send check donations to:

ABS-CBN Foundation
150 Shoreline Drive
Redwood City CA 94065
Toll free hotline: 800-527-2820

Overseas Donors (excluding North America)
Please deposit cash donations to
Equitable PCIBank
Account name: ABS-CBN Foundation, Inc. - Volunteers
ABS-CBN Branch, Mother Ignacia St., Diliman, Quezon City
Account number: 1491-04069-2
Swift (Routing) code: PCIBHMM
For more information, please call us at +632-4114995. You can also send email of your pledge to
sagip@abs-cbn.com

A. Cash
1) Peso Account
Account name: The Philippine National Red Cross

Account number: 151 – 3 – 041 – 63122 – 8 – MBTC

2) Dollar Account
Account name: The Philippine National Red Cross

Account number: 151 – 2 – 151 – 00218 – 2

Swift Code: MBTC PH MM
B. Globe G-Cash

Just text: DONATE
<4-digit> RED CROSS then send to 2882
C. Globe Donate-A-Load
Just text RED
then send to 2899

D. In-Kind Donations
We are only allowed to receive in-kind donations that are in good condition. The goods should not be expired and damaged, as to make our rescue and relief efforts more efficient and effective.

Steps:
1. A letter of intent to donate should be sent to the PNRC.
2. A letter of acceptance from PNRC will be sent back to the donors after receipt of the letter of intent.
3. The donor should send the PNRC the deed of donation in advance.
4. Immediately after shipping the goods, send the advance copy of the Bill of Lading for sea shipment and Airway Bill for air shipment together with the List of Contents/Items to the PNRC before the shipment arrives to the Philippines.

Note: *All original papers are to be forwarded to this address:

THE PHILIPPINE NATIONAL RED CROSS
c/o Sec. Gen. Corazon Alma De Leon
National Headquarters
Bonifacio Drive, Port Area
Manila 2803, Philippines

For further information, you may contact the following:
· Ms. Gwendolyn T. Pang, Director of Fund Generation Department
phone : + 632.527.0000 loc. 159 / +632.525.5654 (8 :00am to 5 :00pm)
mobile phone : + 63.917.827.7421 (24 X 7)
email :
gwenpang@redcross.org.ph
· Mr. Richard M. Villena, OIC of Corporate Partnership Unit
phone : +632.527.0000 loc. 114 (8 :00am to 5 :00pm)
mobile phone : +63.917.882.5776 (24 X 7)
email :
fundgeneration@redcross.org.ph
· Fund Generation Department (8:00am to 5:00pm)
Ms. Thelma Aguilus : Telefax +63.2.404.0979
Ms. Edna Andales : Telefax +63.2.527.0575
· PNRC Operation Center (24 X 7)
phone: +63.2.527.0000 / +63.2.527.0864 / +63.2.527.0865 /
mobile phone: +63.917.806.8513

Let it be known that I will never accept donations whether in kind or in cash in behalf of any of the institutions/organizations above. For those who have a heart and wish to donate, I advice you to only donate to an institution/organization of your choice, you trust and know.

Last week, I planned to take part to a yearly for a cause blogging event for the first time but had to set it aside. I rather choose to help Bicol first and foremost. So by the weeks to come, my family and friends will be as busy as usual with yearly projects such as selectively choosing families around Metro Manila to receive gift baskets/packages and setting a big Christmas party for them in my own house to show that we truly accommodate them and treat them as a family. And this year, the donation for the Reming victims will be an addition to our projects. With all the bound activities, I have to take a blogging holiday. I might post once or twice a week, who knows? Maybe show you some photos of several events. We'll see. Mind you, the smiling faces of children, men and women you were able to make happy with just a mere gift, dinner, party and talking to them for a brief moment is so much joy. Worth of all the efforts, wouldn't trade to too glamorous spectacular social boohoos! This early on, I wish you all... Merry Christmas and A Happy New Year!





Technorati tags:typhoon Reming, donate to victims of Reming, typhoon Durian, help victims of typhoon Reming
Posted by pinaygourmand :: 12:23:00 AM :: 1 comments

---------------oOo---------------