Monday, November 27, 2006 Organic Harvest From A Home Garden: Asian Persimmons





Since these are in season nowadays and I do like the crisp Fuyu persimmons from California, I had to get these photos and post it as an initial entry to my series of home grown plants.


There are two most common varieties of persimmons among few existing cultivars. These are the Hachiya and Fuyu persimmons. There are other varieties such as the Maru or Chocolate Cinnamon Persimmon described to have a dark flesh with a cinnamon taste and is plump and rounder than Fuyu. Other cultivars are said to be found at the OTOW Persimmon Orchard near Sacramento. It is believed that the original Japanese owner of the farm is the one who introduced persimmons to North America. The orchard is open for tours and fantastic sights are the 100-year old persimmon trees and hard to find persimmon varieties.




At the top are the Hachiya persimmons, having an acorn shape-pointed bottom. This variety is too astringent and is high in tannin. It is only for consumption when it is ripe and soft. Sometimes dark spots appear, its an indication that it is ripe and is good to eat already(it doesn't mean it's overripe and starts to rotten). Good to make some pie with it.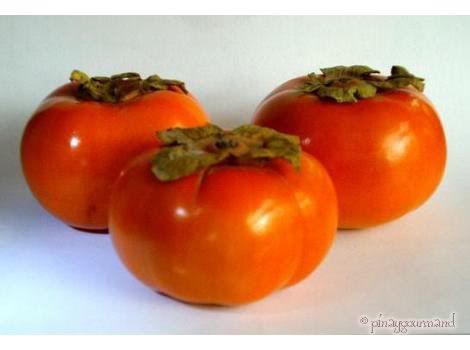 These tomato-like persimmons are known as Fuyu. It is juicy and crisp. It is usually described to have the crisp of an apple and juiciness of a pear. This one I do enjoy a lot. I eat it peeled or unpeeled.
Next: Early Girl Tomatoes and Jalapenos


Technorati tags:persimmon,Fuyu persimmon,Hachiya persimmon
Posted by pinaygourmand :: 5:33:00 AM :: 0 comments

---------------oOo---------------