Wednesday, November 08, 2006 Organic Harvest From A Home Garden



I love anything Nature has to offer-from flowers, other ornamental plants, fruits, vegetables, poultry, grazing animals, edible water-living creatures (seaweeds, seafood and fish) to an all prepared, served, ready to devour food. If only I have so much leisure time I absolutely love to have my own hydroponics farm and grow all sorts of lettuce, hard to find herbs and vegetables and let some poultry roam around the land. I really like the fulfilling feeling once I harvest and use it all up in preparing meals. Wow, what a dream come true!

Back in reality, on my Northern Manila home garden I have one side dedicated to herbs, vegetables and fruits. I have and had Onion, Ginger, Turmeric, Rosemary, Basil, Oregano, Pandan, Lemongrass, Purple Yam, Ampalaya (bittergourd) vines, crawling local Kalabasa (Pumpkin/Squash), Japanese Spinach, Calamansi (Philippine Lemon), hottest kind of Siling Labuyo (Chili pepper), Langka (Jackfruit), Atis (Sweetsop), Bayabas (Guava), Pineapple, unbelievably real Longan and Orange- unfortunately cut by a house help in thoughts of those were wild!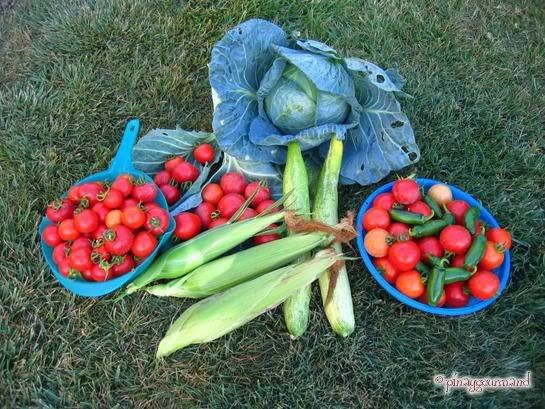 few of the harvested produces


Last spring/summer at the California home garden, a bountiful harvest of Early Girl tomatoes, Jalapenos, Habaneros, Cabbage, Golden Sweet Corn, Burpless Hybrid Cucumbers, Pears, Persimmons, and Apples amongst others, all organically grown went straight to the kitchen top for consumption. The vegetables are from interesting and hard to find varieties back in Manila and I thought of possibly trying to plant them in my own backyard in Manila. I am on a trial of growing lettuce, and I am planning to have another side of the garden for the varieties I got from the California home garden. If it turns out to be a success, I might give away the seeds to encourage fellow foodies and friends to grow these beauties!



Technorati Tags:vegetables,fruits,garden,harvest
Posted by pinaygourmand :: 3:05:00 PM :: 7 comments

---------------oOo---------------